Warning
: in_array() expects parameter 2 to be array, string given in
/home4/writeit/public_html/wp-content/plugins/facebook-button-plugin/facebook-button-plugin.php
on line
244
Warning
: in_array() expects parameter 2 to be array, string given in
/home4/writeit/public_html/wp-content/plugins/facebook-button-plugin/facebook-button-plugin.php
on line
246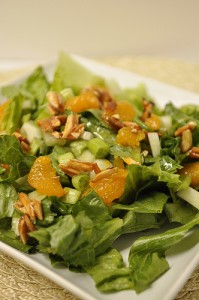 This is another one of my favorite salad recipes, and so refreshing for summer.  You can have it as a side or make it an entrée by adding a protein.  I think shredded carrots or chopped cucumbers would be a good addition if you want to give it some more crunch.
This recipe will last you for about a week, so cut it in half if you can't use that much, but I always make this amount so we can have the dressing/topping around for a couple of weeks.  It's a crowd pleaser too, so if it's your turn to bring a big salad this is perfect.  I got this recipe from my friend Jody who loves to entertain and I just tweaked it a bit.
Salad:
Lettuce (whatever you have, but a mix of iceberg with romaine or spring mix is good)
Mandarin oranges (optional)
Topping:
Small bag of sliced almonds
Bag of sunflower seeds
Two squares of ramen noodles broken up (save the seasoning for the dressing)
Dressing:
1/2 C. sugar
3/4 C. white vinegar
1 C. oil (I use canola)
1/2 t pepper
2 packets of Ramen seasoning (oriental or chicken)
Easy and delicious!
Click here for more salad recipes.