Warning
: in_array() expects parameter 2 to be array, string given in
/home4/writeit/public_html/wp-content/plugins/facebook-button-plugin/facebook-button-plugin.php
on line
244
Warning
: in_array() expects parameter 2 to be array, string given in
/home4/writeit/public_html/wp-content/plugins/facebook-button-plugin/facebook-button-plugin.php
on line
246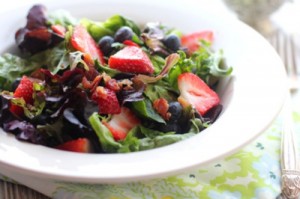 These salad recipes are perfect for summer, and I almost never use store-bought salad dressing which allows me to switch up the recipes and eat salad without getting sick of it.
Below are a couple of my favorite salad recipes and dressings, but if I don't have one made and I'm in a hurry I simply salt and pepper the salad, then sprinkle a little vinegar, extra virgin olive oil, and maybe a dried or fresh herb.
After you've made a few homemade dressings you start to get than hang of experimenting with your own recipes based on what you like and have on hand.
What you'll need:  a jar to shake the dressing in (a washed out jam jar or spaghetti sauce jar), oil, vinegar (cider, balsamic,rice or any fancy vinegar like raspberry is great, and cider is the cheapest), salt, pepper, sugar, and I will give some more ideas for varieties, see below.
The basic rule of thumb is 3 parts oil to 1 part vinegar.  My favorite two oils to use are extra virgin olive oil, and canola oil because they have some healthy fats in them.  Add salt and pepper, maybe a little dried mustard or Dijon mustard if you have some in the fridge.
Warning if you use extra virgin olive oil and put it in the fridge it does harden.  It looks gross but the dressing is still good, you just have to let it thaw and then shake it up.
Here are a few of my favorite recipes…
Cranberry/Pear Salad: 
Greens, Pears or Apples,Gorgonzola, Parmesan or Feta cheese (I really like the gorgonzola and even find it at Aldi), Craisins/dried cranberries, Pecans or walnuts toasted in a skillet (when I'm lazy I don't toast them or I use store-bought candied/toasted nuts).
Dressing:
3/4 C. oil
 1/3 C. honey
2 T. raspberry vinegar (I don't usually have this on hand so I substitute with cider vinegar or balsamic).
1 T. Dijon Mustard
1 T. minced red onion (optional)
1 t. salt
Strawberry Poppy Seed Salad  This is my all time favorite poppy-seed dressing.  You may want to cut this in half your first time to make sure you like it).
Dressing
1 C sugar
3 t. ground mustard
1 t. salt
2/3 C. rice vinegar
2 C. Extra virgin olive oil
2 T. poppy seeds
Combine in a blender or food processor, but again I am usually lazy and I just shake it up in a jar.  I think it still tastes great.
The salad I put this dressing is just greens (spring mix), silvered almonds (toasted), and strawberries or blueberries.
Time Saver: Trader Joe's had silvered almonds that are already toasted and they are delicious on this salad.
More salad recipes to come!