Warning
: in_array() expects parameter 2 to be array, string given in
/home4/writeit/public_html/wp-content/plugins/facebook-button-plugin/facebook-button-plugin.php
on line
244
Warning
: in_array() expects parameter 2 to be array, string given in
/home4/writeit/public_html/wp-content/plugins/facebook-button-plugin/facebook-button-plugin.php
on line
246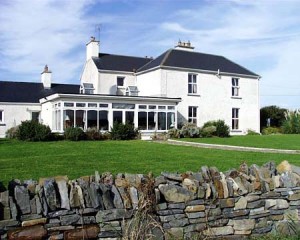 In light of St. Patricks day I wanted to share one of my favorite bread recipes.  It is so easy and delicious.
My mother and father in law took Jason and I to Ireland ten years ago, during our first year of marriage.
We drove around the countryside staying at a different bed and breakfasts each night.  It was beautiful, but my favorite part was staying in the restored mansions and country homes.
Each afternoon we were greeted with an afternoon tea… bread with jam, maybe some dessert and tea.  Jason and my father in law were not very interested in "tea time" so my mother in law, Colleen, and I usually enjoyed the girl time by ourselves.
Colleen asked for the recipe for this Irish brown bread at one of the bed and breakfasts, the Berry Lodge (shown above).  This lodge was also a restaurant and cookery where the owner taught cooking classes, but she was still willing to give this recipe to Colleen.
This recipe requires no kneading or rising.  It is easy, healthy and so delicious with jam.  Our family loves it with strawberry or rasberry jam.  I have also made it with whole grain white flour before and it is a little less chewy (and a little less healthy), but very good.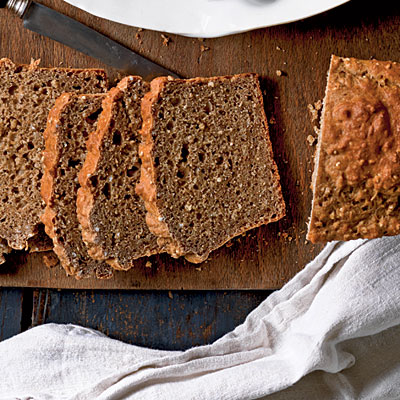 Irish Brown Bread
2 c. Whole wheat flour
1 1/4 c. White bread flour
2 T. Steal cut oats
1 t. Baking soda
1 t. Cream of tartar
1 Good pinch of salt
1 t. Honey (I think you could substitute sugar if you don'g have honey)
1 T. Oil
1 Egg
2 1/4 C. Buttermilk
(I usually don't have buttermilk so I substitute either half plain yogurt/half milk OR I make a substitute by mixing 2 T of white vinegar OR lemon juice with 2 1/4 C of milk.  Let sit for 5 minutes before you mix it with other ingredients.
Heat buttermilk, honey, and until hot, but not to a boil, in microwave or saucepan.  Mix in the rest of the ingredients.  Pour into a greased bread pan or 5×5 pan and bake at 350 degrees for 50-60 minutes (until it sounds hollow).
Enjoy with your favorite tea!