Warning
: in_array() expects parameter 2 to be array, string given in
/home4/writeit/public_html/wp-content/plugins/facebook-button-plugin/facebook-button-plugin.php
on line
244
Warning
: in_array() expects parameter 2 to be array, string given in
/home4/writeit/public_html/wp-content/plugins/facebook-button-plugin/facebook-button-plugin.php
on line
246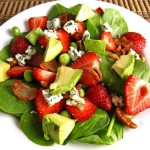 I often make salads at dinner, but it seems more than half of the time my kids reject it before they have even tried it.  Kids eat with their eyes and like choices so I decided to make our own salad bar at our house.  We do this regularly and it works… all of our kids eat their salad and usually ask for more.
I try to use healthier lettuces like romaine, spinach, and spring mixes.  If you like the crunch of the not as nutritionally packed iceberg you can mix it in with another healthy lettuce and it works well.  Make sure to chop your kids lettuce/spinach into smaller pieces fit for their little mouths.  You can even use a round pizza cutter to smash it all up.
Here are some ideas for toppings (I usually just use what I have on hand):
Hard boiled eggs, cranberries, raisins, sunflower seeds, lunch meat, leftover grilled chicken, cheese, croutons, nuts, broccoli, shredded carrots, shrimp, strawberries, olives, mushrooms, leftover taco ingredients with tortilla chips, black beans, peas, tomatoes, any veggie!
Put out a few different salad dressings, (I love making my own and I'll put some of my favorite dressing recipes on here soon).
It's kind of a no throw-together dinner, and it's so healthy.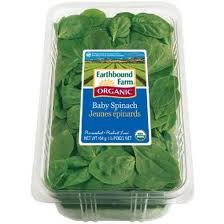 My all time favorite item to buy at Costco is their one pound bin of organic spinach or organic spring mix.  It is almost the same price as a small bag at the regular grocery store, but there is probably three times the amount.
Do you have any other topping ideas or tips to get your children to eat veggies?