Warning
: in_array() expects parameter 2 to be array, string given in
/home4/writeit/public_html/wp-content/plugins/facebook-button-plugin/facebook-button-plugin.php
on line
244
Warning
: in_array() expects parameter 2 to be array, string given in
/home4/writeit/public_html/wp-content/plugins/facebook-button-plugin/facebook-button-plugin.php
on line
246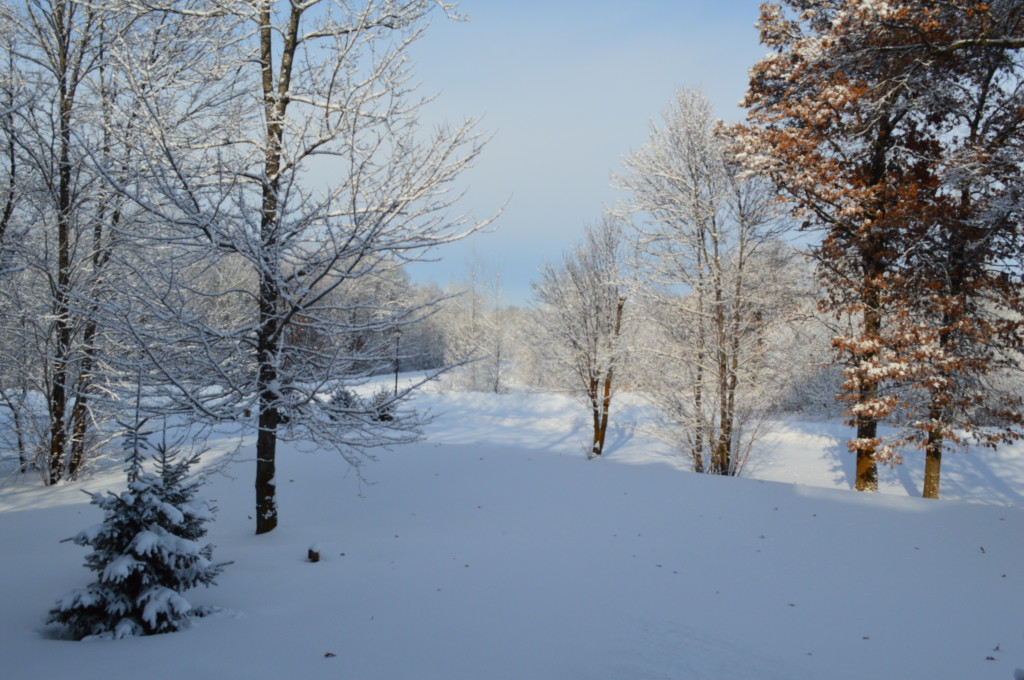 This is the view out of our front window from last winter.  It's pretty to look at, but I have high hopes for an early spring this year.
The last month has been filled with canceled school and some days with sick kids where we can't leave our house.
After eight winters in MN with kids, here are a few things that have helped us survive physically and mentally.
Ideas for days when you can't leave the house. 
1. Let go of your expectations for a clean house or your to-do list for the day (if possible) so you can give extra snuggles.  Sometimes the sick days that I dread become precious because of the extra time I get with our kids.
2. Have a beach party.  Get swimsuits on, grab some beach towels, and get the kids in the bath.  Put some music on and pretend it's a sunny day at the beach :).
3. If you have girls, do a spa day.  Put some coconut, olive or catsor oil on your hair with a plastic bag.  Do a honey mask and manicure.
4. Get a stack of books, and let the kids into your bed for a cozy time of reading.  My kids seem to think it's fun if it's in our big bed.
I try to get to the library once a week in the winter to keep us stocked up on books and videos in case we have a few days where we can't leave the house. If you can get out for a quick trip to the library, the books on CD, videos, and of course books can be a life saver.
5. Take a deep breath.  You will leave the house again.
I would love to hear your ideas as well!
Help for Our Bodies.
Disclaimer: I am not a medical professional.  These are things that have helped me as I have researched and tried various home remedies. I use a variety, but these are some of my favorites.
1. Freeze a container of homemade chicken noodle soup for one of those days when you need it.  I will share the easiest way!
Buy a large rotisserie chicken. Take the meat off and put it in the refrigerator or freezer, depending on when you will make it.  Then put the carcass in a crock pot, cover with hot water (and garlic, carrots, or onion if you want to make it richer but if I'm in a hurry I skip that).  Cook on low for 12-24 hours.  Your broth will be rich with vitamins and minerals.  There are many benefits to bone broth.
When you're ready, follow a chicken noodle soup recipe like this one, (but I add peas).  You have your chicken and chicken stock all ready to go, so it takes me less than 20 minutes to do the rest!
2.  Vitamin D3, which primarily comes from the sun and certain foods, is essential for our physical and mental health.  I buy D3 drops and give them to our whole family daily throughout the winter because, well, we're not seeing much sun in MN.  This has been found to help to ward of illness, depression and even certain cancers.  
When you have your yearly physical ask your doctor to test your vitamin D levels.  Even though I had mine tested in the summer and I was taking the recommended amount of D3, my levels were still not in optimal range!  My goal would really be 60, and I believe 40-70 is considered optimal.
You can take too much, but if you're not in the sun, most people need much more than the recommended daily dosage.  If you want to learn more click the vitamin D link above.
Here is where I buy my vitamin D3 drops in olive oil.  It's the cheapest I've found and I don't receive anything for mentioning Vitacost.  I think you can find a coupon code for $10 off you first order.
3.  Honey lemon water.  When I feel a cold coming on I drink really strong hot honey lemon water and it often causes the sore throat to go away, or diminishes the length of the cold to a few days.  The tea should have about 1/2 cup of a cup of lemon juice, hot (not boiling) water and as much honey as you need to make it drinkable.  Microwave the water before you put the lemon in it or it supposedly kills the enzymes?  I don't know, that's what "they" say.  Cinnamon is also anti-viral, by the way, if you can get a teaspoon of that into your body somehow it's an added benefit.  I just don't like it in my honey lemon water personally.
4. Garlic oil. Garlic is antimicrobial.   I have cured my ear aches as well as my kids with this and they did not have to go on antibiotics.  My oldest sons say that it gets rid of the pain within minutes.  You can buy garlic oil or do what I do and heat up a chopped clove of garlic in a small sauce pan with a few tablespoons of olive oil.  Let it cool and add drop it in the ears.
I also swallow chopped garlic like I would a vitamin with water when I get a stomach ache and it often gets rid of it.  The article I linked above shares some of its benefits.
5. Green smoothies.  These are very popular right now, but particularly if you let your kids help you make them or call them a cool name, you can pack some great nutrients in a little drink.  Green smoothie recipes abound on the internet.
If you have ideas, corrections, or questions, please comment.  I am not a health expert and love hearing suggestions!