Warning
: in_array() expects parameter 2 to be array, string given in
/home4/writeit/public_html/wp-content/plugins/facebook-button-plugin/facebook-button-plugin.php
on line
244
Warning
: in_array() expects parameter 2 to be array, string given in
/home4/writeit/public_html/wp-content/plugins/facebook-button-plugin/facebook-button-plugin.php
on line
246
This week we had my mother-in-law over for her birthday dinner.  She is such a special person.  We appreciate her so much, and always love to honor her.
We made salmon and chicken, grilled vegetables (which didn't turn out the best), pear/apple poppy-seed salad, watermelon and this flourless chocolate cake for her dinner.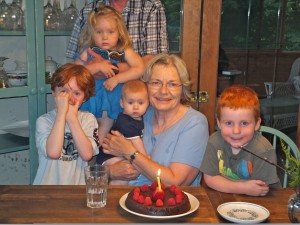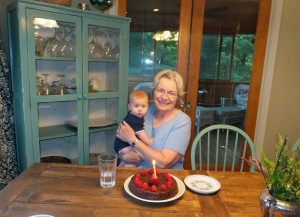 If you are a chocolate fanatic like my mother in law, you will love this cake.  It has a rich dark chocolate flavor.  AND it only has FIVE ingredients not including the water :).  I like that.  We put raspberries around the cake with a strawberry in the center, and then served it with whipped cream.
My mother-in-law asked for the recipe of both the cake and salad, so I thought I would share it on here as well.  Here is the salad recipe.  This recipe was given to me by someone who brought us this salad after Jasper was born, and it is a nice refreshing salad for summer. Cashews are my new favorite on salad.  This has been all I want to eat on hot days this week.
Pear/Cranberry poppy-seed Salad
Dressing:
1/2 c. Sugar
1/2 t. Salt
1 T. Poppy-seed
1/3 c. Lemon juice
2/3 c. Canola oil
1 t. Dijon mustard
Store dressing in the refrigerator.  The dressing lasts me quite a few salads, so you can cut in half if you only want a little.
Salad:
Your favorite greens (romaine, or spring mix), one pear sliced, one apple sliced, craisins (dried cranberries), cashews, and parmesan cheese.
Drizzle with a bit of dressing and toss.
This recipe is versatile, if you don't like pears, just use apples.  Fuji apples are great in this salad, but use what you like.
Hope you are keeping cool on this hot weekend!