Warning
: in_array() expects parameter 2 to be array, string given in
/home4/writeit/public_html/wp-content/plugins/facebook-button-plugin/facebook-button-plugin.php
on line
244
Warning
: in_array() expects parameter 2 to be array, string given in
/home4/writeit/public_html/wp-content/plugins/facebook-button-plugin/facebook-button-plugin.php
on line
246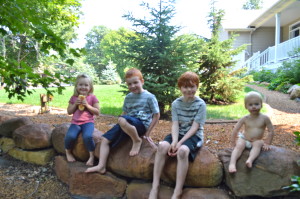 "For everything there is a season, a time for every activity under heaven."     Ecclesiastes 3:1
Our summer started out a little rough around the edges, but it got so much better that I have to choke back tears every time I think of school starting for the kids tomorrow.
I will miss the picnics in our front yard, the warm sun, fresh berries and lazy days, but mainly my heart aches at the transition that Hudson's making from preschooler to kindergartener.
He still holds my hand when we go on walks, and kisses my cheek when I drop him off at church.  I guess I just don't want to let that sweet little boy go.
And Micah will be in second grade.  I will miss the two of them.  I know there is a benefit to a more little peace and quiet, as well as time with the two little ones, but right now I'm putting off making lunches because I want to live in denial.
Thanks for listening, I feel better already.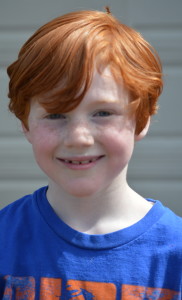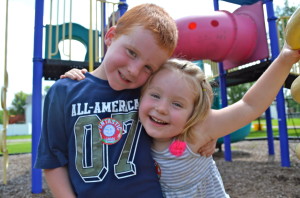 What's odd is that three weeks into summer I was over it.  For some reason the older three kids weren't getting along and I felt like I was constantly disciplining.
While that was going on Jasper started walking.  Goodbye baby stage, but hello cute little walker.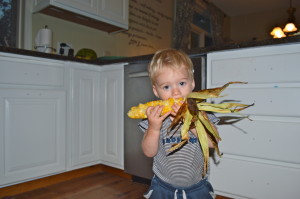 It was questionable whether Jasper would survive that stage, but he did.  He fell at least ten times a day, and ate everything in sight whether it was edible or not.  But he lived to tell the tale, and now he's nineteen months old, walking well and saying words.
I lived to tell the tale too.  Just barely, I thought I was going crazy three weeks into summer.  I'm exaggerating, but at the time it didn't seem so funny to me.
The most difficult day was topped off by Isabelle cutting her own hair while she was supposed to be sleeping.  The next day we went to Kid's Hair so she could get her first professional haircut and just getting out of the house I started to feel sane again.
Sometimes you just need to get out of the house.  You know, interact with people who whose['÷ heads reach higher than your waist.
Here is the before and after of Isabelle's hair.  Notice the lovely mullet she cut in the first picture.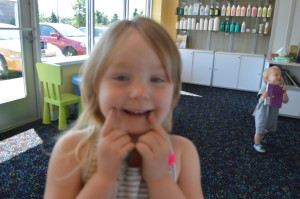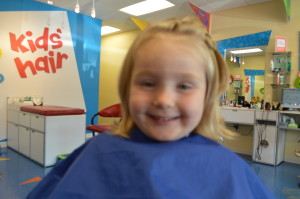 I don't know what happened but from then on our summer did get much, much better.  I think a lot of it was prayer, and that I restarted a small group with some women (community helps a lot).
I did a lot of praying for each child individually.  I pray for them daily, but a friend encouraged me to pray for them more specifically.  To pray against sin that has been passed down through generations, and to pray for their specific struggles.
I think our kids needed to get back into the groove of being with each other all day long, and part way through the summer they played together so well.
I'm thankful.  We ended up having a great summer, not void of its bumps, bruises and sunburns, but great.  Here it is in a nutshell.
I read, and even got some novels in.  "All She Ever Wanted" by Lynn Austin was my favorite fiction book that I read this summer, .
My favorite non-fiction book I read this summer was probably Unglued by Lysa TerKeurst.  It's about dealing with our emotions in a healthy way, and from a biblical perspective.
We went to visit my grandparents in Appleton, WI, and saw extended family we hadn't seen in years.  We went to a water park resort in Wisconsin Dells on our way back.
We completed a summer bucket list that consisted of things from baking strawberry rhubarb pie to playing capture the flag in the back yard.  My purse got stolen from our car while were at the zoo.
Micah and I celebrated our birthdays, which are three days apart and Jason and I are 11 year wedding anniversary.
I hope you all had great summers and have a nice transition into fall.  Here's to chilly mornings, turning leaves, cooking and pumpkin spice scented candles.